Day 2.
The egg cluster is growing... while working today I listened to a TED talk on vulnerability and shame by Brené Brown. The work became a meditation on these ideas and how I have often used them to limit myself. She discusses shame as "fear of disconnection" often due to fear of not being ____ enough to be worthy of connection. I struggle with sharing my work before it's done, or before I have fully constructed my defense of my idea because of fears that it won't be good enough, moving enough, revolutionary enough, pretty enough, inspired enough, perfect enough... this is despite the fact that nearly every interaction I have had with others about my art brings positive connections, conversations that further the work, trigger new inspiration for myself or the other person, or are otherwise affirming and encouraging.
In her talk Brené Brown reminded me that vulnerability is not weakness, rather sharing from a place of vulnerability is an act of courage. As I drew today, extending this cluster of frog eggs without a clear idea or intention yet for where this 2017 drawing is going, I let them become a symbol for vulnerability and potential.
Powered by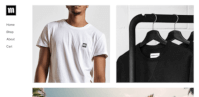 Create your own unique website with customizable templates.